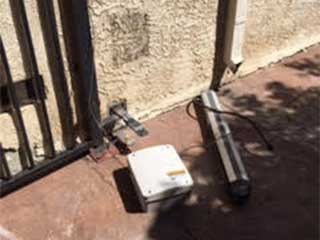 We provide professional gate repair services for local customers. There are many reasons that your front yard or driveway gate may stop working. If you have a swing gate, its post may be misaligned which can lead to the gate dragging along the ground and in some cases not being able to move. The entire frame will need to be re-adjusted for the gate to return to proper working order and we can help ensure it continues to do so long into the future. Sliding gates can get stuck if too much debris and dirt is trapped within their tracks or if the track becomes dented and damaged.
Common Gate Issues
Automatic gate openers are amazing for convenience but can suddenly stop working or show signs of serious degradation. The motor in an opener will weaken over time especially if it has not received been maintained properly. If you have an opener system that refuses to work, we can send one of our experienced technicians to conduct a thorough assessment and get down to the exact cause of the issue.
Expert Gate Repair
We have been providing our gate repair expertise to local customers for years! There's no issue we can't fix. From new gate and opener installation to master welding and manual door repairs, we have the skills needed to ensure that your gate is returned to perfect working order and is built to last through all the seasons of the years to come. Want your gate fixed right away? Contact our team at Garage Door Repair Woodland Hills and we can arrange a call out for a time that suits you best. In some cases we may be able to have your gate fixed within hours of making your booking! Get in touch today to find out more!