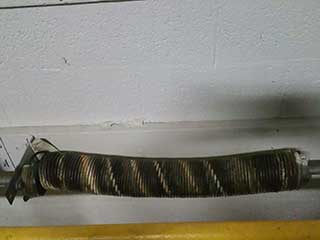 After a while, your garage door's springs will break. You can make them last longer by keeping them oiled and well maintained, but one day they will break. If you know they're on their last legs, you can avoid the aggravation of a nonfunctional garage door by replacing them before they snap. If they break sooner than expected, you'll want to replace them as soon as you possibly can. If you live near the Woodland Hills area, you can have a team of experienced technicians over to replace broken springs the same day you notice them. Low prices, same-day service, and versatile technical skills make us the local go-to name for garage door maintenance and broken spring replacement.
The Life Of a Garage Door Spring
Garage door springs are tough. They have to be, because their job involves staying under high pressure at pretty much all times! Every model of spring has an estimated lifespan – measured in lift cycles – before it's expected to break. How many cycles that is depends on the quality of the spring and the weight of the garage door it's meant for, but most styles will last about 12 years of daily use. Keeping track of your garage door usage will help you know when your springs are starting to weaken and plan accordingly. Replacing them before they break is better, but our Woodland Hills emergency services are on hand if you don't manage to.
Dangers Of Replacing Springs
There's a reason "professional garage door technicians" are a thing that exists. If you don't have thorough training in the subject, you could put yourself at serious risk trying to perform spring replacement. Garage door springs contain a lot of energy in their coils, and that energy can release itself wildly if handled improperly. Hundreds of people go to the hospital every year after being hit by flying garage door springs during attempted DIY replacement! Take advantage of our cheap, day-of-call expert services. There's no reason for any Woodland Hills area homeowner to risk it!
Call For Urgent Broken Spring Repairs in Woodland Hills and Nearby
Our team handles every style of residential garage door, including replacements for torsion, extension, and hybrid spring systems. We're available every day, even on weekends and holidays. If you have spring issues, give Garage Door Repair Woodland Hills a call today and our technicians will come to lend you a hand in no time!