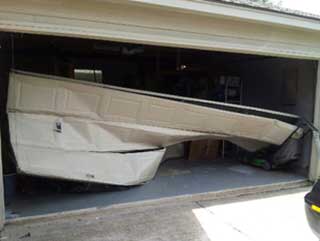 Oftentimes, when your garage door experiences some sort of problem, you don't have time to wait for solutions on some other day. You're in a hurry and you need your garage door repaired ASAP, not next week or tomorrow. That's why our local specialists at Garage Door Repair Woodland Hills offer continuous same-day service solutions on weekends and weekdays alike. We help customers with broken spring replacement, garage doors that get off track, opener troubleshooting solutions, and more. When you suddenly experience a problem, know that our technicians are here to help whenever you need us.
Woodland Hills Garage Doors Repaired Same Day
It's almost always inconvenient to have a spring break on your garage door. You're often in a hurry to get somewhere, and this unexpected issue can throw a wrench in your plans. A speedy response becomes hyper important at that point. You don't want to wait all day for help to arrive, let alone a day or two. Garage Door Repair Woodland Hills's same-day solutions ensure you get a quick fix for any problem that affects your system. We maintain our emergency repair services throughout the week as well as on weekends. That way, whenever you've got some problem with the garage door, repairs can come quickly and cheaply.
Fastest Opener Troubleshooting Solutions
If you're experiencing problems with the garage door opener remote not working, sometimes it's a small issue and reprogramming can solve it. But other times some serious troubleshooting for the opener can be required. It's not always clear right away what's causing the problem. Garage door opener repairs, after troubleshooting and finding the source, are also potentially complex. That's why it's better to avoid DIY attempts and let professionals handle the fixing process. You can cause more damage to the machine if you repair it incorrectly, which will cost you more in time and money later on.
Fastest Replacement For Broken Garage Door Springs
Have we emphasized speed enough? It's so important to customers that when a garage door spring breaks they can get a new one installed in no time at all. We know you're busy and you don't want to waste your precious free time on an annoying broken garage door spring. For that reason, we've been offering the fastest broken spring replacement services near Woodland Hills for well over a decade. You no longer have to lose the entire day when something like this happens. If springs break on your garage door, you now have quick recourse that will save your daily plans. Need emergency garage door repairs of any kind? Then call us to get quick solutions on any day of the week!