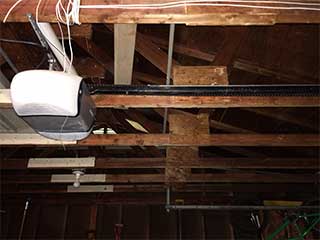 At Garage Door Repair Woodland Hills we take pride in the fact that we carry and service all brands of openers while offering great prices on new installations and repairs. We can repair and service your Sears, Craftsman, Genie or Liftmaster unit or replace your existing unit with a brand-new one.
Repairs and Replacements
When you notice that your garage door doesn't open or close properly, you can't know whether the opener needs to be repaired or replaced with just a quick look. This is where the service of an experienced technician is needed, as he can provide you with the right advice regarding your opener. We cover both service repairs and replacements and have all parts necessary on hand to get the job done right away.
High Quality Openers
When getting a new opener we ensure a smooth and quick installation as well as advice on how to use the device to get the most of it. We carry a full line of door openers from manufacturers such as Sears, Craftsman, Liftmaster and more. Our friendly team can help you choose the right one by taking into account your preferences and budget.
Superior Craftsmanship
Besides opting for a high-quality garage door opener, you also need to make sure that the device you choose is installed properly. You can count on our knowledgeable team to install your new door opener professionally that will ensure great functionality for many years to come. Our team members have decades of experience between them and they make sure that the work is always done in a timely manner and at a time that is suitable for you.
Get in touch with Garage Door Repair Woodland Hills today for the best local service you can get.

In addition, count on us for:
Liftmaster Garage Door Maintenance
Genie Garage Door Openers
Oil Tempered Torsion Springs
Bent Garage Door Track Repair